OUR MISSION STATEMENT
The Eradication of Iodine Deficiency in the UK.
OUR VISION
To ensure optimal iodine nutrition in all sectors of the UK population in order to avoid the adverse effects of iodine deficiency.
OUR MISSION
As an independent group we promote awareness through advocacy of the importance of iodine in the diet and make evidence-based recommendations to eradicate iodine deficiency in the UK.
AIMS OF THE GROUP
To eliminate iodine deficiency in women who are planning pregnancy or who are pregnant, and women who are breast-feeding, in order to safeguard their children's development, and brain development in particular.
To provide appropriate advice on dietary and supplemental sources of iodine, particularly those aimed at pregnant and lactating women.
To enable health professionals to respond appropriately to situations where iodine deficiency may be an issue.
To identify relevant gaps in the published research concerning iodine and influence the research agenda in the UK.
To ensure surveillance of iodine status in the UK population, with emphasis on the first 1000 days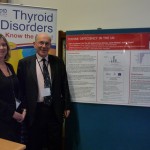 Page updated November 2019